A performance by
Dag Andersson, Lars Bethke and Sandra Medina

Photographer: Andreas Johansson
"Performing arts that thoroughly take the viewers to a new
field is indeed, not very common."
Expressen Kultur
Skippin' Through The Graveyard – a bluegrass gospel musical.
With dark humor, witty vocal harmonies and an ecstatic line dance,
four unlikely missionaries take the audience on a heavenly journey in
search of the meaning of faith. Questioning their mortality with an
evangelical obsession, they challenge each other (and gravity) in
hopes of escaping the hot fires of hell.
Video from a performance at Parkteatern, Summer 2013.
We are three originators behind this bluegrass/gospel-musical.
Together with our creative team we have created a waiting room with
Christian overtones.
It began in 2010 with the discovery of our mutual fascination with this
special music genre, and that we were puzzled over texts that mostly
expressed futility, guilt, fear, fatigue and promises of a better after life. It
made us start thinking about our own normalized Christian heritage,
and how we are shaped by the concepts, images and rituals that
surround us in our everyday lives.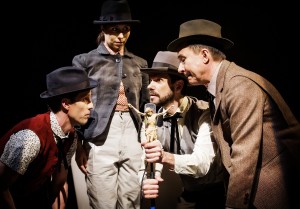 Photographer: Håkan Larsson
We live today in a multicultural society where the desire to belong is
perhaps stronger than ever. Our choices are endless but the risk of
polarization greater. How do we choose to belong to a group without
excluding other people, thoughts and ideas? It's easy to miss the
obvious. And how extreme is the norm anyway?
"With superb timing and total
control of the nstruments – their
bodies, voices, and music –
they throw between different
moods."
"The audience gasped and
laughed at the ensemble's
posturing around our biggest
issue. Maybe because no one
can ignore it. And whether we
are believers or not, we are
burdened and worn by our
religious heritage."
Nummer.se
"We will not see the lamb's
blood flow, but this is a soulfishing
in troubled waters."
"The balance falters and the
show goes haywire in a water
orgy of God's grace."
Svenska Dagbladet
"It's sad, laughable, thoughtful and
touching by turns."
"The audience, or should we
believe: the congregation? is early
taken into the process, alternating
between reverent, tedious wait (for
someone to arrive) and frenetic
excitatory activity."
Vestmanlands Läns Tidning
photographer Andreas Johansson
"Always surprising: theme, shape,
development."
"Here is a musical treasure, here
are four artists who love it and
know it well, but who also ask: what
it this about?"
Expressen
Skippin' Through the Graveyard has successfully played on several
stages and in different contexts. It premiered on Västmanland theater
and has since been performed in its entirety e.g. at House of Dance in
Stockholm, Folkets hus in Rinkeby, the House of Culture in Norberg,
Teatermaskinen in Riddarhyttan and Parkteatern/Stadsteatern in
Stockholm and Malmö sommarscen(outdoor version).

Photographer: Håkan Larsson
Performed by: Dag Andersson, Lars Bethke, Anders Larsson, Sandra Medina
Scenography/costumes: Linda Irenedotter Ingemansson
Mask: Maria Morgell
Light: Christer Billström
Sound: Nicklas Sandström
Dramaturgist: Mari Hedenius
Length: 75 min
With support from the Swedish Arts Council and the Culture committee of
Sthlm. A co-production between Bastardproduktion and Västmanland
Theater.
E-mail: kontakt@bastardproduktion.se